Hardware Manuals
Advanced Setup
The VFX Control offers a built-in USB Audio interface with 3 stereo outputs that can be used in various ways and setups.
MASTER & HEADPHONES SETUP
By default, the unit is pre-defined to operate as a all-in-one controller and the audio mixing to be performed by the internal VirtualDJ mixer. In this case, the PLAYER 1 Audio Output (Channels 1,2) is used to connect to an amplified system and the PHONES 1/4" Output (Channels 5,6) to connect your Headphones for pre-listening. The pre-defined Audio setup is offered with the special button at the top of the AUDIO tab of VirtualDJ Settings as per the image below.

EXTERNAL MIXER SETUP
The unit offers the necessary outputs to connect an external audio mixer and route the left and right VirtualDJ decks to separate audio channels. In this case, the PLAYER 1 Audio Output (Channels 1,2) can output the audio signal of the Left VirtualDJ deck and the PLAYER 2 Audio Output (Channels 3,4) can output the audio signal of the Right VirtualDJ Deck, if the audio setup of the image below is applied in Audio setup of VirtualDJ. Press the EXTERNAL MIXER button at the top to get this setup

Keep in mind that the mixer section of the VFX Control will still alter Volume, Equalizer and Gain to the Left/Right decks, so in case of an external mixer, you may need to disable this functionality. In order to do that, you will just need to edit the default action of the ONINIT key in the Mapping and set the vfx_extmixer variable to 1 as per the image below. Set it back to 0 if you need the mixer of the VXF Control to control the internal mixer of VirtualDJ.

3RD OUTPUT - ALTERNATIVE SETUPS
The remaining Output (3,4 or 5,6 depending on the previously selected Audio setup) can be used for additional outputs, such as dedicated Sampler Output or Booth Output. There is also no restriction to what Channels (connections) you will use for Decks, Master, Headphones or other outputs.
In the following example, PLAYER 1 (Channels 1,2) is used as Master Output, PHONES (channels 5,6) is used for Headphones pre-listening output and PLAYER 2 (Channels 3,4) is used to connect a Booth monitor speaker.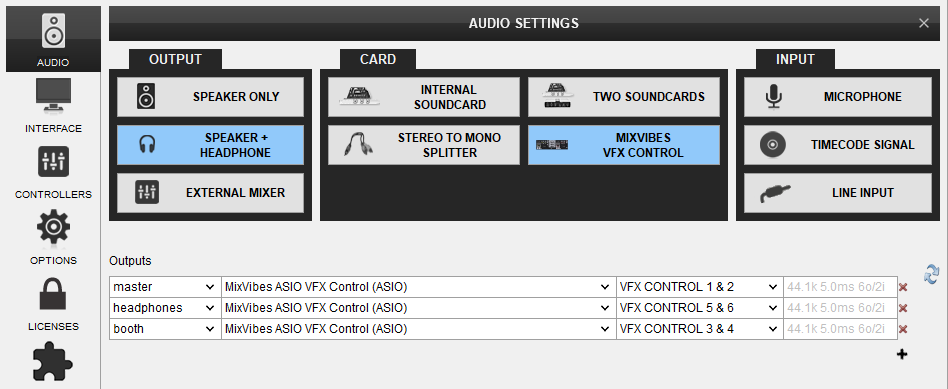 ---

Hardware Integration Department
2018 - ATOMIX PRODUCTIONS
Reproduction of this manual in full or in part without written permission from Atomix Productions is prohibited.