Forum: Addons
Discussion about HalfSpeed

HalfSpeed is a simple addon that when pressed on halves the speed (pitch) of the track. When switched off the track is returned to the normal speed.
Within the effect gui there are 2 buttons.
Button 1 controls slip, You can have the fx slip back to the position where the should be if the pitch wasn't changed.
Button 2 controls master tempo, You can override the mastertempo setting while the fx is on, if on the halfSpeed will sound like an extreme digital time stretch, if off it will sound just like playing a record at halfspeed.

neither of these buttons effects the standard slip_mode or mastertempo of your deck when the fx is off, switching off the fx will return these to state they were before the fx was called.

credit to vdj user bagpuss for requesting this addon
---
发表时间 Sat 14 Jul 18 @ 11:38 am
After install I get a "This plugin does not seem compatible with VirtualDJ 8" when I try to select it in the dropdown
Using b4787 on Windows 7

---
发表时间 Sun 03 Mar 19 @ 12:37 pm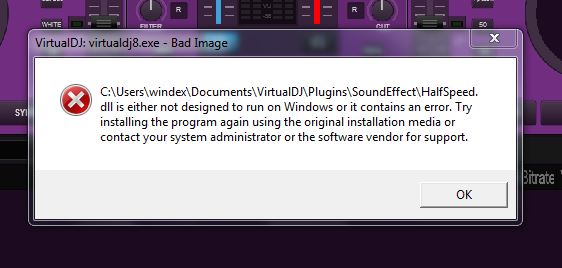 ---
发表时间 Mon 04 Mar 19 @ 1:13 am
Strange, I'll look in to it.
---
发表时间 Mon 04 Mar 19 @ 1:54 am
Now at every try to load it it raise the dialog "Does not seems to be compatible with VirtualDJ 8" and mark as "INCOMPATIBLE"
---
发表时间 Wed 26 Jun 19 @ 2:22 pm
Very strange, something must have changed in vdj, but it's likely my ropey coding.
I'll run my sauce code and see if I can get it to work
---
发表时间 Wed 26 Jun 19 @ 4:04 pm
Checked my version and it works fine, [perhaps I uploaded the wrong build last time] I've uploaded my working x64 version for dev's to check.
---
发表时间 Mon 01 Jul 19 @ 1:33 am
"quote=locodog"
Checked my version and it works fine, [perhaps I uploaded the wrong build last time] I've uploaded my working x64 version for dev's to check.
"/quote"
You are right, moving the dll to plugin64 make VDJ64 have a functional HalfSpeed plugin


---
发表时间 Mon 01 Jul 19 @ 1:44 am
Ok, I understand now; the x64 version of the addon was being downloaded with the x86 version of vdj, not sure how that happened [I've uploaded x86 and x64 versions for dev's to check]
---
发表时间 Mon 01 Jul 19 @ 2:15 am