Forum: Wishes and new features


Features you would like to see in VirtualDJ
话题: [2018+] Shader - Wishes & new features

- Option to group shaders. Auto-Change shader in group only.
- Auto-Change time (16,32,64,128... beat)
---
发表时间 Sat 16 Jun 18 @ 5:53 pm

I agree some sort of order would be nice. At the moment they just seem to be listed randomly.
---
发表时间 Sat 16 Jun 18 @ 7:01 pm

- marker for transparent shader
- option to play only transparent
---
发表时间 Sat 16 Jun 18 @ 7:15 pm

It would be better if we had a way to organise them. Right now it's hard to group...moving them in the list is really long when you have more then a 100. A way to create Shader playlist would be awesome!

Also it would be cool to be able to lock the windows like the sidelist and sampler.
---
发表时间 Mon 19 Nov 18 @ 12:19 pm

Me, too!
---
发表时间 Tue 15 Jan 19 @ 11:55 pm

Perhaps a settable effect_string for the shader fx, maybe even let it accept filepath for the shader so we could have "shader playlists"
(tried a few things but nothing sticks)
---
发表时间 Sun 10 Feb 19 @ 10:20 am

Should already work
---
发表时间 Sun 10 Feb 19 @ 10:25 am

oh ok let me test

So it does, I'm struggling with the syntax for shader on fx slot 3 or no slot,
got it
_
effect_string "shader" 1

not changing the shader though
effect_string "shader" 1 "shaderName"
effect_string "shader" "shaderName" 1
---
发表时间 Sun 10 Feb 19 @ 10:45 am

Ok getting somewhere

the effect_string wants the shader name (the base64 name) and in the shader gui it moves to the selected shader but the output stays as it was.
---
发表时间 Sun 10 Feb 19 @ 11:03 am

You are right, will check. Also should accept the readable name as well I guess, a little difficult like this :p
---
发表时间 Sun 10 Feb 19 @ 11:10 am

so we have to learn scripting to organize shaders instead of having folders to organize..
maybe something like this...?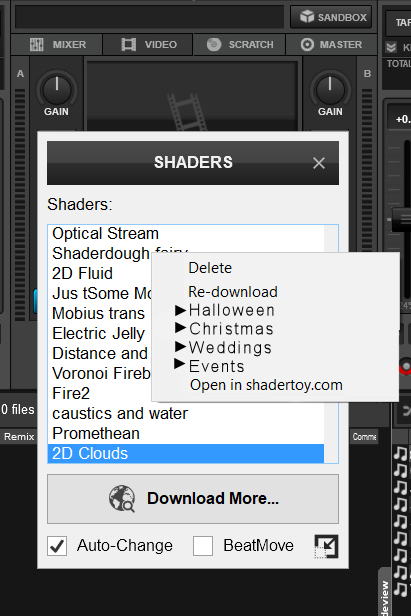 ---
发表时间 Sat 16 Feb 19 @ 11:02 am

I've just had a though (will need to rest a while now!)...

Rather than names, I think it would be far better to be able to pick shaders based on their appearance - like cover art for shaders.
---
发表时间 Sat 16 Feb 19 @ 11:17 am

a preview thumbnail would be nice, but for now... I gotta say

THANK YOU!!!!!
---
发表时间 Sun 03 Mar 19 @ 11:15 am

Just spotted a need while sorting shaders in to folders.
A automagically filled folder for "unsorted" I could make my own unsorted folder and copy everything from "all" in to that, then move to other sorted folders but as I DL more new shaders I'd struggle to know which have been sorted and which hasn't.
---
发表时间 Wed 27 Mar 19 @ 5:44 am

I've got my shaders folded in to 'themes' like disco, psy, B&W etc And that's alright but now I'm wanting have some shaders in several folders.
Specifically I'm wanting to make folders for shaders that are good with a specific transition.
Is there any way of doing this in shaderList.xml ?
[I guess I could copy&edit the .shader, give it a new name etc, or copy & republish on the shadertoy site]
---
发表时间 Tue 07 May 19 @ 7:56 pm

locodog wrote :

I've got my shaders folded in to 'themes' like disco, psy, B&W etc And that's alright but now I'm wanting have some shaders in several folders.
Specifically I'm wanting to make folders for shaders that are good with a specific transition.
Is there any way of doing this in shaderList.xml ?
[I guess I could copy&edit the .shader, give it a new name etc, or copy & republish on the shadertoy site]



do it locodog
---
发表时间 Wed 08 May 19 @ 12:21 am