Forum: Addons


Addons comments
由于该帖子的部分内容已年深日久,可能包含陈旧过时或描述错误的信息。

Discussion about Accord
---
发表时间 Sun 31 Jul 16 @ 7:47 pm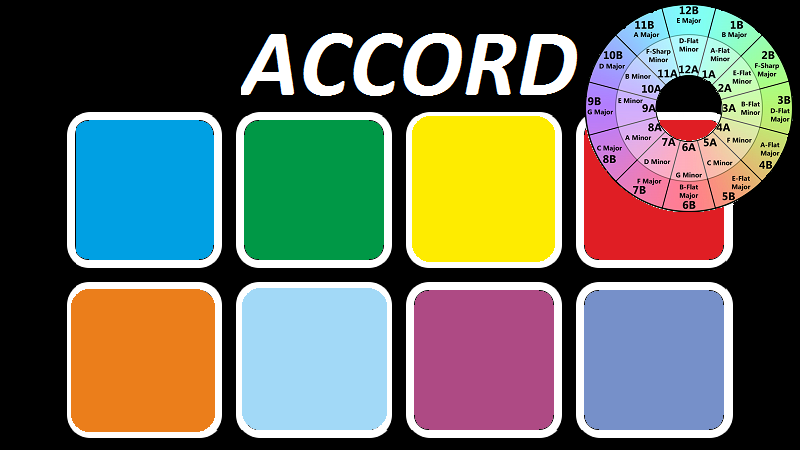 Accord
[Harmonic search]
A tool to quickly search for harmonic matches within ±3% pitch from your pads.


Pads [unshifted = default deck, shifted = browsed file]
1 Match Key
4 Major/Minor swap
2 Plus 1 on the Camelot wheel, [A.K.A. a Major 5th]
5 Minus 1 on the Camelot wheel, [A.K.A. a Minor 4th]
3 Plus 2 on the Camelot wheel, [A.K.A. Energy Boost]
6 Plus 7 on the Camelot wheel, [A.K.A. Mild Boost]
4 Plus 4 on the Camelot wheel, [A.K.A. Major 3rd]
8 Minus 3 on the Camelot wheel, [A.K.A. Minor 3rd]
Params Just display key information

[C]Maybe you mix harmonically all the time, maybe you've no idea.

Either way Accord is a tool you need to work smarter.

No more squinting at the key, typing that and a bpm range into the search bar.
This tool give you harmonic matches within ±3% pitch, with just one press of a button.
This addon will be exclusive to Pro licence holders for 2 months,
after that it will be open to all users
Prerequisites - You must allow searches for BPM and Key also Master Tempo must be on
How to shown below.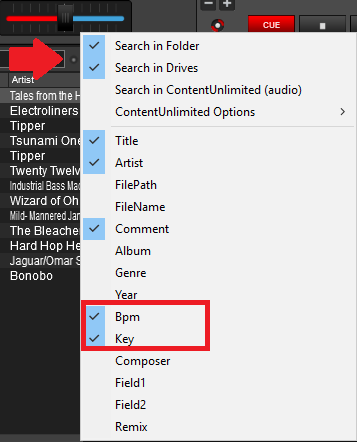 ---
发表时间 Mon 01 Aug 16 @ 12:25 pm

Hey Loco, is it possible to round the bpm to full bpm?

I'm using 2 digits after dicimal point so the script will give me 115.21 - 119.21 (no valid 3% values just an example).
Would be nice to get BPM 115 - 120 as they would still match good and are more common than a comma BPM value.
---
发表时间 Mon 01 Aug 16 @ 3:38 pm

I'll have a look.
---
发表时间 Mon 01 Aug 16 @ 5:37 pm

v1.01 Small bug fix

Typing error on my part, left no space between major key and bpm in search.
[thanks to wickedmix for spotting it]
---
发表时间 Tue 02 Aug 16 @ 9:41 pm

As promised licencing restriction dropped, now open for all users.
---
发表时间 Mon 03 Oct 16 @ 11:24 pm

Great Add-On....I love it! Great job!
---
发表时间 Wed 23 Nov 16 @ 2:03 am

Great Addon!

Couple of questions:
1) Is there a way to limit the search criteria? I'm getting audiobooks and other non-DJ-music in my results.
Can I adjust the app to only search (or show results for) songs from a certain folder, or which include a certain word in the genre/comment etc...?

2) What is the search based on? The active deck? The track currently playing? The selected track in the browser?

Cheers

---
发表时间 Fri 20 Jan 17 @ 2:02 am

Shiftpad or pad lets you pick between, browsed & playing

1 remove unwanted files from search db, change AB's bpm to near zero, that's down to your house keeping.
---
发表时间 Fri 20 Jan 17 @ 8:21 am

Doesnt seem to be working on the latest update, please fix this :)
---
发表时间 Thu 11 May 17 @ 4:16 am

I'll have a look this evening.
---
发表时间 Thu 11 May 17 @ 4:25 am

Thanks! It would be greatly appreciated my music library is too large and its hard to figure out what I want for a set sometimes seriously great plugin!
---
发表时间 Fri 12 May 17 @ 1:05 am

Wait, nevermind I turned on bpm and key on in the search and its working again sorry about that!
---
发表时间 Fri 12 May 17 @ 1:32 am

No worries I hadn't got round to looking, so zero effort wasted.
---
发表时间 Fri 12 May 17 @ 2:13 pm

It seems the bug fixed version is not uploaded ?
I installed it today and the bug is still there at key 'Minor 4th' (no space between harmonic & BPM)

---
发表时间 Mon 31 Jul 17 @ 8:29 pm

I'll look when I get chance.
---
发表时间 Mon 31 Jul 17 @ 9:05 pm

Nice addon. How did I miss this?
---
发表时间 Tue 01 Aug 17 @ 6:41 am

I was pretty active producing padpages back then :-)

I want to revisit this at some point, while it works fine if you don't stray too far from 0%,
It misses possible matches...
Like if you played a 120 bpm @ 10% (a bit extreme, but not unrealistic, just an example) it will look for matches around the 132 bpm region,

I'd like it to also find tunes that are within a range of the outgoing tunes original bpm that will harmonicly match after the pitch shift.
(If I remember right the script for the page was lengthy, so I may start from scratch and release as a separate)
---
发表时间 Tue 01 Aug 17 @ 12:11 pm

how do i add it to my virual dj 8
---
发表时间 Tue 19 Sep 17 @ 5:48 pm

Download, execute the .exe and it will be there as a padpage.
---
发表时间 Tue 19 Sep 17 @ 6:19 pm