Forum: General Discussion


About VirtualDJ and DJing in general

---
If you need extended support, contact our Support Team.
Forum Guidelines  (*) The moderators hold the rights to move or modify posts in order to keep the discussions clear or to facilitate the search.

I'm using the last BUILD 1872.712 works GREAT BEST VERSION EVER!
I was doing Karaoke last night, one of my singers wanted me to change the key, DID NOT SEE UNDER EFFECTS BUTTON, so when I got home pulled out the manual, could not find. so then I'v been on the forum can't find, any help would be appreciated. THX MUCH

---
发表时间 Wed 09 Jul 14 @ 8:30 am

You can use the down arrow in the right side of the deck to reveal the key changer then adjust your key with the +/- buttons.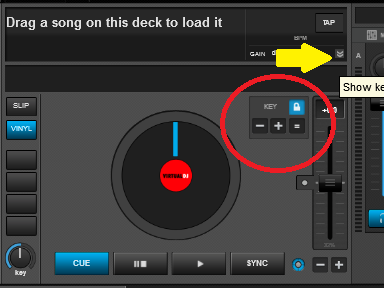 ---
发表时间 Wed 09 Jul 14 @ 8:45 am

THX SO MUCH!! I KNEW IT WAS THERE SOMEWHERE
---
发表时间 Wed 09 Jul 14 @ 8:58 am

Ok now where on the 4 deck skin is the key control? I'm just not seeing it.

Is key change available on the 4 deck skin? I use it on V7's 4 deck skin.
---
发表时间 Tue 05 Aug 14 @ 2:24 pm

Not directly you need to use 2 custom buttons, or script 2 controller buttons

key_move +1
key_move -1
---
发表时间 Tue 05 Aug 14 @ 2:44 pm

All set thank you for THE HELP!
DJMA
---
发表时间 Tue 05 Aug 14 @ 2:46 pm

Got it. Thanks. Perhaps I'll explore putting buttons on the skin.
---
发表时间 Wed 06 Aug 14 @ 2:56 am

What about for 8Pro?
---
发表时间 Wed 06 Apr 16 @ 2:45 am

Please read the above messages...
---
发表时间 Wed 06 Apr 16 @ 4:27 pm

I can't find the key changer.
---
发表时间 Fri 23 Dec 16 @ 4:41 am

Did you read all of the post in this thread? Really, the answer is on this page.
---
发表时间 Fri 23 Dec 16 @ 9:21 am

i was wondering if anyone know how to change the size of the font for the key signature. It's very difficult to see on my computer.
---
发表时间 Thu 17 May 18 @ 5:10 pm