Forum: VirtualDJ Plugins


Questions about plugins development, talks with other developers etc
话题: MY LIBRARY - The essential database tool for VirtualDJ 8 - Page: 1
由于该帖子的部分内容已年深日久,可能包含陈旧过时或描述错误的信息。




This project was more for my own use, making use of all the powerful filter folders one can use in VirtualDJ 8...
But after reading 100s of posts from users asking how to make this or that folder, as well as tons of questions on how to find this and that, I felt that there could be interest from others to use this too.. . so hence I'm sharing it ;)

One big reason for sharing it, is also how incredible easy it is in VirtualDJ 8 to share this with you all .. Its practically just drag and drop 2 files in to VDJ folder, and you are good to go with tons of powerful and easy-to-use smart folders for your database and collection ;)

Have fun, and feel free to comment, come with ideas for improvements, or folders you'd like to see added, and I'll expand it in updates

Also, a last note, this tool has a wide range of folders to use, you can of course easily delete any of the folders you dont want to have ;)
(or even whole "my library" should you want to remove it ..)

Download here:
http://www.virtualdj.com/plugins/index.html?addonid=16760

PS! you should do this with without having VDJ open, else you will need to restart for it to take effect

EXAMPLES OF THE CONTENT FOLDERS THAT COMES WITH "MY LIBRARY" :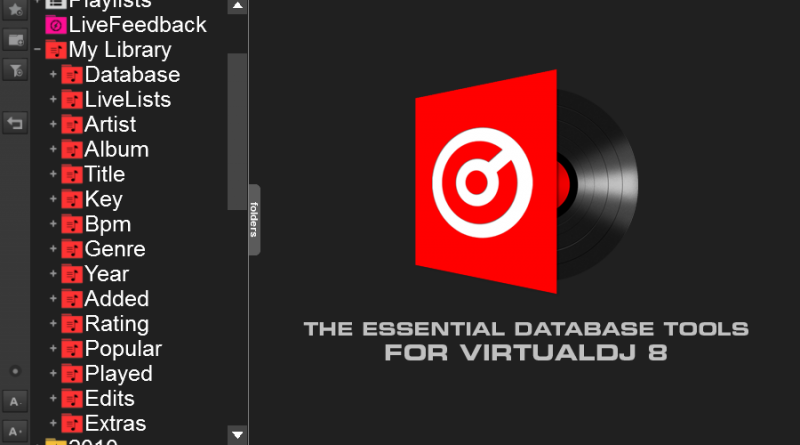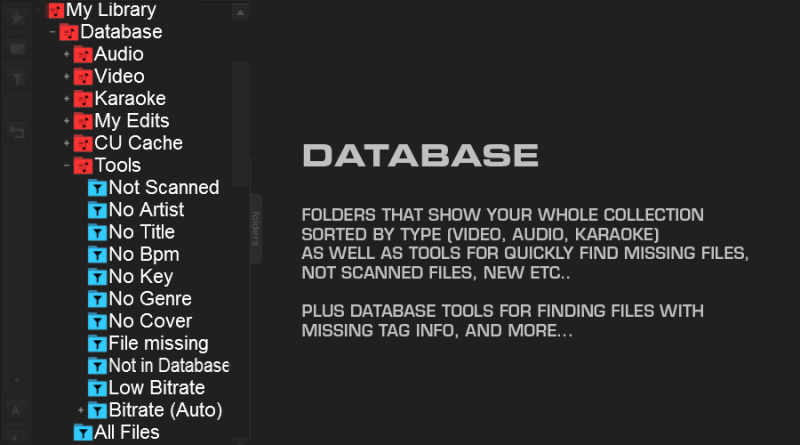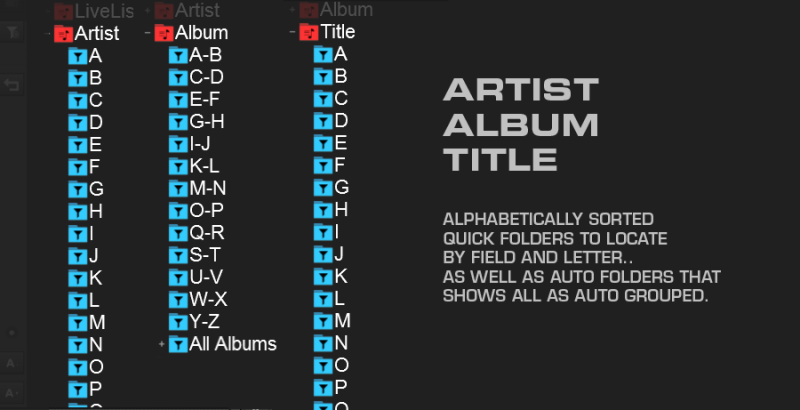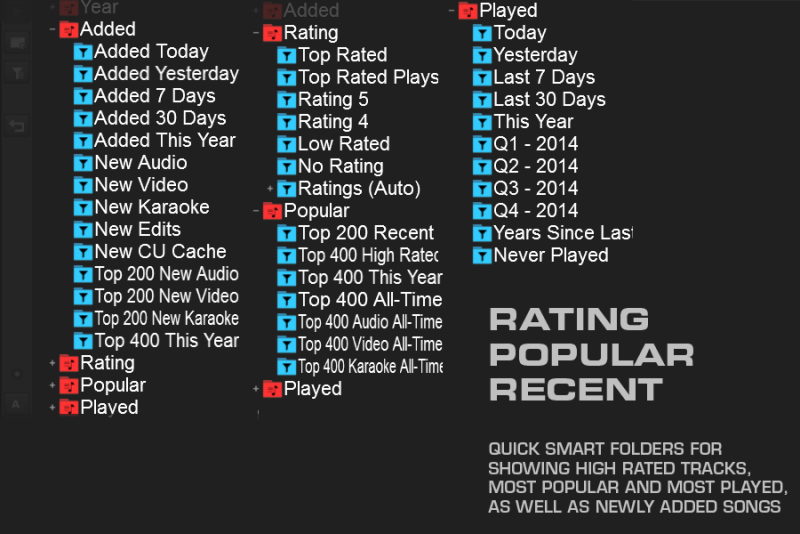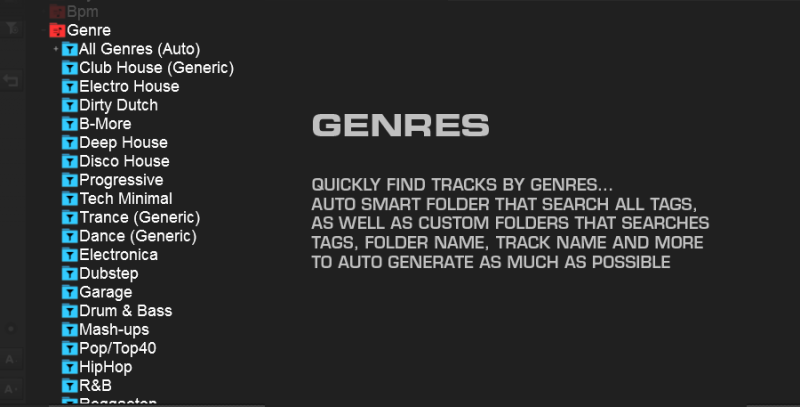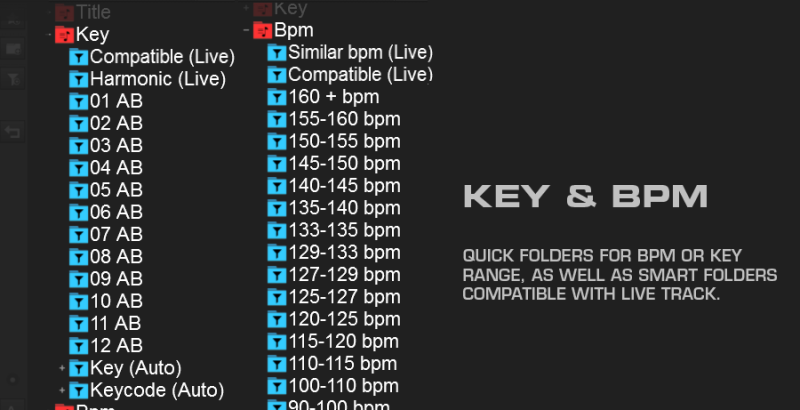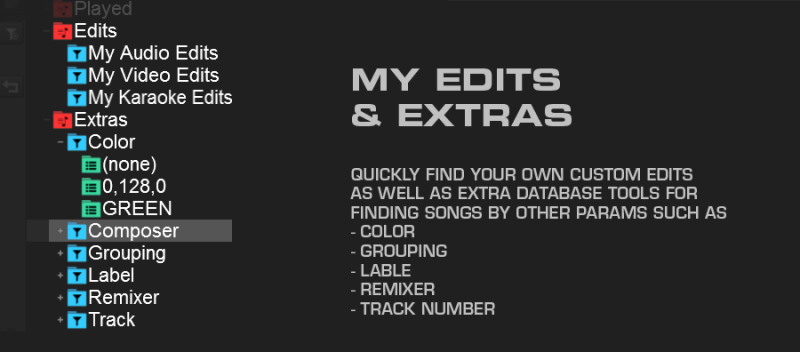 ---
发表时间 Sat 31 May 14 @ 4:14 pm

WOW! +1
---
发表时间 Sat 31 May 14 @ 4:30 pm

Wow that is really well made.

Thank you very much and very great work.
---
发表时间 Sat 31 May 14 @ 4:41 pm


thanks thanks ;) was more a tool for my own use.. but I thought why not share it ;)
And if any improvements, filters one wants added etc.. feel free to comment ;) I'll update the folder tools as we go .. ;)
---
发表时间 Sat 31 May 14 @ 4:46 pm

Nice!!!
---
发表时间 Sat 31 May 14 @ 4:47 pm

awesome
---
发表时间 Sat 31 May 14 @ 5:29 pm

HOLY CRAP.... GENIUS!!!
---
发表时间 Sat 31 May 14 @ 5:33 pm

Straight up BEAST MODE!!!! This has me like DAMMMMM SON WHERED YA FIND THIS!!

Thank You!!
---
发表时间 Sat 31 May 14 @ 5:51 pm

So beatbreaker it passes yoyr standard?
---
发表时间 Sat 31 May 14 @ 6:08 pm

Thank you. I just can say .....WOW!

;o))))
---
发表时间 Sat 31 May 14 @ 6:10 pm

Thanks Norway,

Didn't show up in mine, whats the root folder in options? under browser? I have: Desktop, MyComputer, MyMusic, MyVideos, Sampler, Cloud, History, Playlists, LiveFeedback, iTunes

Do I have to add anything?

---
发表时间 Sat 31 May 14 @ 6:11 pm

should show in root folders yes, if you dropped the content of the zip file into my documents/virtualdj/folders
---
发表时间 Sat 31 May 14 @ 6:14 pm

Thank you very much! Great job!

---
发表时间 Sat 31 May 14 @ 6:16 pm

Sorted
---
发表时间 Sat 31 May 14 @ 6:31 pm

Good good ;)
---
发表时间 Sat 31 May 14 @ 6:32 pm

Very nice indeed! Any chance of a release for vdj7
---
发表时间 Sat 31 May 14 @ 6:34 pm

Will check whats possible for v7 ;)
Nested folders is a bit of a v8 feature though ;)
---
发表时间 Sat 31 May 14 @ 6:37 pm

THX NORMAN!!!!

---
发表时间 Sat 31 May 14 @ 7:23 pm

nice thank you
---
发表时间 Sat 31 May 14 @ 7:27 pm

Thank you sir
---
发表时间 Sat 31 May 14 @ 7:51 pm