Forum: Wishes and new features


Features you would like to see in VirtualDJ
话题: Website Feature Requests - Page: 2
由于该帖子的部分内容已年深日久,可能包含陈旧过时或描述错误的信息。

Groovin,

You can click the +Previous Messages (at the top) button and see the most recent posts.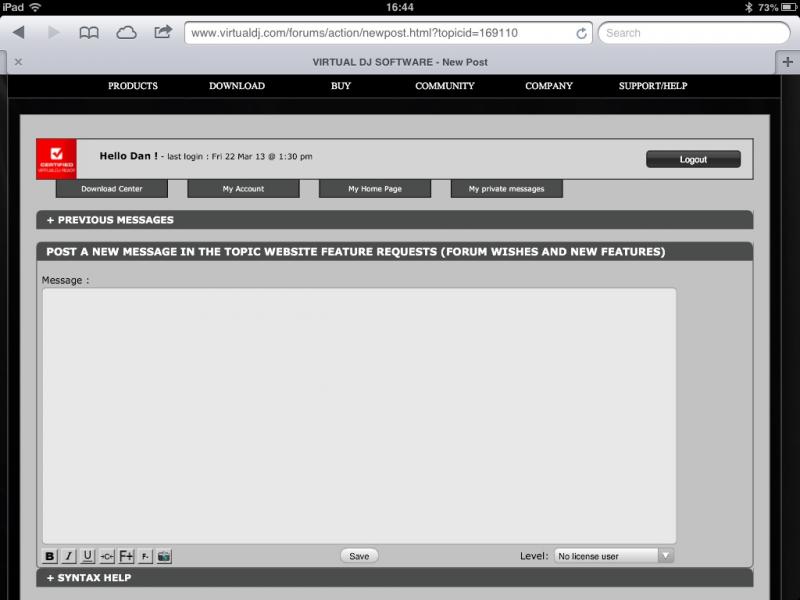 ---
发表时间 Fri 22 Mar 13 @ 11:45 am

The "Topic with new posts" icon should not be "Blue" when there are new posts there, but you don't have rights to see them.
Very annoying.
---
发表时间 Sun 24 Mar 13 @ 8:43 am

previews for plug-ins?

audio sample of before and after for audio plug-ins to preview before downloading to see if we really want them.


but what would really be useful, would be a short youtube video clip for the transitions or effects that actually show them in use.

I know i'm probably not the only one who has a huge library of effects downloaded that takes awhile to scroll through.
---
发表时间 Sun 31 Mar 13 @ 7:12 am

a kind of "auto refresh function" would be nice. so you dont have to click to the forum link to see if there are new posts or answers to a former post
---
发表时间 Sun 07 Apr 13 @ 4:21 pm

APP FOR SMART PHONE THAT CAN SENT DIRECT REQUEST TO VIRTUAL DJ PRO AND BE SAVE ON THE CLOUD LIST "REQUEST"


EXAMPLE

VIRTUAL DJ PRO USER NAME:DJELPATRON

PLAYLIST UP TO 5 TITLE:
RIHANNA-HALO,
DAVID GUETTA -TITANIUM
REQUEST BY NINA
EMAIL :NINA87@GMAIL.COM

SEND
---
发表时间 Wed 29 May 13 @ 3:25 pm

1) STOP SHOUTING!

2) That's got nothing to do with website features.
---
发表时间 Wed 12 Jun 13 @ 4:04 pm

groovindj wrote :

1) STOP SHOUTING!

2) That's got nothing to do with website features.



Cool idea though. :)
---
发表时间 Tue 02 Jul 13 @ 9:19 am

I don't see why people can't just ask the DJ!
---
发表时间 Tue 02 Jul 13 @ 6:33 pm

Remove 3 character search limitation from website. If I search for "NS7 midi" only midi shows up. I have to search using google but I dont think all the pages are indexed correctly.
---
发表时间 Sun 14 Jul 13 @ 12:40 pm

With some tweaks to the software itself and the VDJ website, how about a way of submitting tracklists to the site for other users to have a nosey at? A refinement of the musicgroups/cloudlist system, if you like. It would be great if at the end of a gig, or even the next day, you could go into your history folder, highlight your setlist, and right-click "send to VDJ website", perhaps with a one-line annotation of what type of gig it was, ie wedding, student night, bar gig, etc. These lists could then be instantly viewable by all via your forum profile. Maybe this could be tied in with the cloudlist system, where a user's favourite DJs tracklistings could be viewed within VDJ itself as well as on the website. All too often us DJs get stuck in our own little musical bubble, and it can be an interesting and educational experience to see what our peers are playing. Any thoughts?
---
发表时间 Thu 18 Jul 13 @ 1:36 pm

I think something like that is coming, Ace talked about being able to broadcast with hosting through the VDJ Website, what you want is not hard to impliment as most of it would be already built for the hosting, also if we have cloud playlists, then the data already exists on a server somewhere.


---
发表时间 Thu 18 Jul 13 @ 2:36 pm