Forum: Video Discussion


Video mixing & karaoke
话题: Video Coming out dark

Need help.

I tried, for the second time, my hand at video mixing. My output video seem to come out dark. Tried adjust a number of things both on my Mac and on the output TV's/Projectors.

Brightness/Contrast
Resolution

The set up:
Macbook Pro running VDJ 7.04
HDMI connected to MiniDV out of the Macbook Pro using this: http://www.amazon.com/gp/product/B002HU629E
HDMI to this Component Video converter: http://www.amazon.com/gp/product/B005H4Y712
From the converter into the clubs Component connector.

I did make sure the the right cable is hooked up to the right input. Y to Y, Pb to Pb, Br to Br. Also sound guy at the club confirmed correct connections and their set up is as it should be. We tested it by playing a DVD on the house system.

Any help or tips on how I can remedy this would be greatly appreciated.
---
发表时间 Thu 15 Sep 11 @ 12:29 pm

check your video tab on the setup, i am sure what it is called but if you look into that tab, it says something about black backdrop. Just remove the check mark and your problem should be fixed.
let me know if it worked because i had the same dark output when i updated to v.7.4 and that's what fixed it.

DJ Omar
---
发表时间 Thu 15 Sep 11 @ 5:33 pm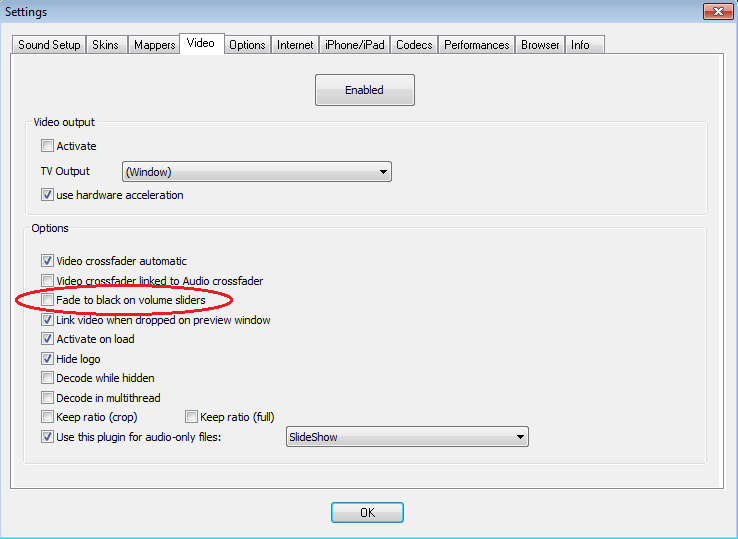 If you independant deck volume is not 100%, uncheck this. This has screwd me a few times, uncheck it and you are all set.
---
发表时间 Thu 15 Sep 11 @ 10:24 pm

Thanks guys I will give that a shot.

My up faders are not MIDI mapped so only the cross fader is. I should've added the rest of the hardware. 2 Denon DNS3700, Denon DNX1600
---
发表时间 Fri 16 Sep 11 @ 8:46 am

Thanks again guys.

Checking off the "fade to black" box worked. Videos came out great.
---
发表时间 Mon 19 Sep 11 @ 9:08 am

I am using 8 and the configurations are totally different! I am lost. Videos displaying are DARK but they are nice and bright in the cue. How di you fix this on VDJ 8?
---
发表时间 Mon 22 Aug 16 @ 1:05 am

videoVolumeLink setting turn it off
---
发表时间 Mon 22 Aug 16 @ 3:45 am

locodog wrote :

videoVolumeLink setting turn it off



THANK YOU!! That was exactly it!
---
发表时间 Tue 13 Sep 16 @ 8:49 pm

This post was very helpful thanks a lot !!!

Cheers!
---
发表时间 Wed 05 Sep 18 @ 11:23 pm