Hardware Manuals
HARDWARE CONTROLS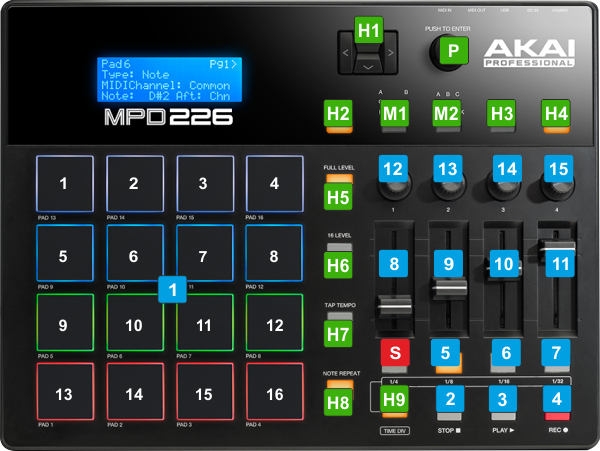 KEY
ACTION
H1

NAV
Use the Up/Down/Left/Right Navigation buttons to navigate through the Parameters and Pages when a Program is edited
H2

PRESET
Use this button to select the Preset mode. When selected, the LCD screen displays the properties of the selected Program when the NAV buttons are used
H3

EDIT
Use this button to select the Edit mode. When selected, the LCD screen displays the properties of the selected Program when the NAV buttons are used
H4

GLOBAL
Use this button to select the Global Edit mode. When selected, the LCD screen displays the properties of the selected Program when the NAV buttons are used
H5

FULL LEVEL
When enabled,
the 16 velocity PADS will send full velocity speed, regardless the pushing strength
H6

16 LEVEL
Press this button to activate/deactivate 16 Level mode. When activated, the last pad that was hit will be temporarily copied to all 16 pads. The pads will now output the same note number as the initial pad but at fixed velocity values that increase as the pad numbers increase (e.g., Pad 1 is the minimum, Pad 16 is the maximum), regardless of how hard you hit them
Note : Makes sense to use this mode in Sampler mode only
H7

TAP TEMPO
Press this button in time with the desired tempo to enter a new tempo (in BPM). This will affect the speed of the Note Repeat feature.
Note: This button is disabled by default since the external MIDI clock source is enabled. If you wish to disable external Midi Clock from VirtualDJ, right-click on the AKAI MPD226 entry in VirtualDJ Settings->Controllers tab.
H8

NOTE REPEAT
Press and hold this button while striking a pad to cause the pad to re-trigger at a rate based on the current tempo and Time Division settings
Note :
All the above Hardware buttons do not send any MIDI message, so cannot be assigned to any VirtualDJ action.
Advanced Setup