Forum: Addons
.

---
发表时间 Tue 09 Feb 16 @ 8:44 pm
I see that there is an update to the "My Library" add-on! Can you please tell me what has changed?
---
发表时间 Tue 09 Feb 16 @ 9:25 pm
.

---
发表时间 Tue 09 Feb 16 @ 9:26 pm
jbezz wrote :

I see that there is an update to the "My Library" add-on! Can you please tell me what has changed?


Yeah, I'd like that info too please. This is the BEST VJD addon BTW, great work - thanks.
M.


---
发表时间 Wed 10 Feb 16 @ 5:03 pm
Im not sure but maybe its more in tune now after BUILD 2821came out.
---
发表时间 Mon 29 Feb 16 @ 9:22 pm

it was just an update to the server certificate, so that downloads meet new standards for Mac/windows.
But there will be an update soon, working on adding some updated stuff to it
---
发表时间 Mon 29 Feb 16 @ 9:32 pm
Support staff wrote :

My Library - the essential music collection tool for your VirtualDJ 8 database, with smart folders to quickly locate tracks in your collection by different parameters, as well as tools for managing files in database.

Drag and drop 2 files, and you instantly have a powerful database tool for your collection

Instructions on how to use inside the zip.

For comments/Questions etc:

http://www.virtualdj.com/forums/189385/VirtualDJ_Plugins/MY_LIBRARY.html



To greek music the library can not workonly in english music.
Is it difficult to make the library in greek language

---
发表时间 Sat 16 Jul 16 @ 2:18 pm
---
发表时间 Thu 03 Nov 16 @ 9:37 pm
Hi,

Great plugin, I use this loads.

However, I've transferred all my music to an external hard drive and since then, all of the filters in the My Library folders have somehow become duplicated. Is this something easy to fix, or do I have to go through each folder and delete all of the duplicate filters?

I hope someone can help.

Thanks

example of duplicates...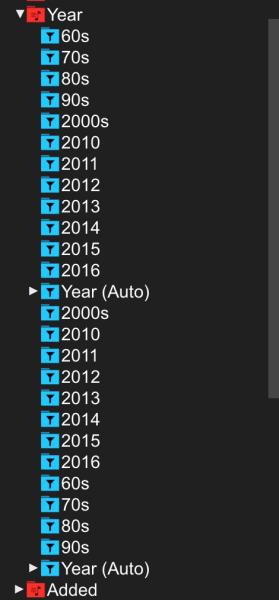 duplicates not shown in finder (Mac)...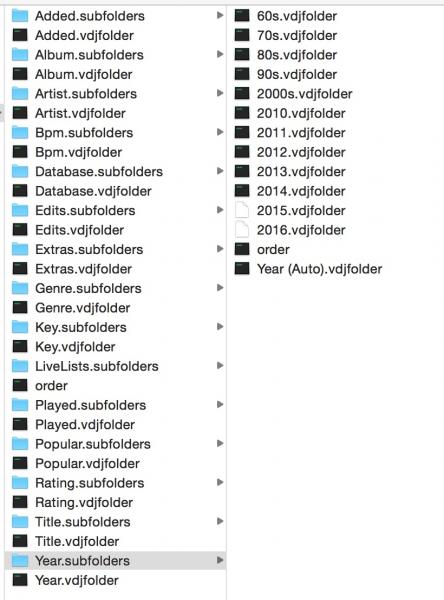 ---
发表时间 Sun 22 Jan 17 @ 5:10 pm
Open your external HDD on finder.
Go to /VirtualDj/folders
Locate the "My Libray.vdjfolder" file and "My Library.subfolders" folder
Move them to Trash
Done!
---
发表时间 Wed 01 Feb 17 @ 11:27 pm
Worked like a charm. Big thanks for this add-on!!!
---
发表时间 Tue 14 Mar 17 @ 5:02 pm
similar Bpm (live) in the My Library addon is added to my sidelist with add shortcut...but it doesnt automatically adjust tracks with new track loaded. You have to click the fold icon to change it. Is there a way to have this done live.
---
发表时间 Wed 15 Mar 17 @ 10:17 pm
good job :)

---
发表时间 Thu 08 Jun 17 @ 10:21 pm
---
发表时间 Fri 15 Dec 17 @ 6:37 pm
tensink wrote :

Okay. I found it. It should not go to a folder "FOLDER" where the program (executable) resides on your computer, but under the VitualDJ folder "Folders" as like <drive>:\username\Documents\VirtualDJ\Folders ... this is not what the instructions are very clear about.



Entschuldung, Bitte an Alle! Aber wenn ich das runter lade, in welchen Ordner muss ich das denn entpacken ???


---
发表时间 Wed 03 Oct 18 @ 11:05 pm
I'm just starting with VDJ. A fellow DJ advised me to add "my library". But I think I'm overlooking something or thinking the wrong way. But i just can't get my library in VDJ. I have a mac. I can only open or show content of package. If I drag it to VDJ in the application it pops up somewhere else.
I tried dragging it into the package which was allowed in the end, but nothing.

I tried dragging it into the folder in the documents folder. Saw lots of other VDJ folders there, but nothing... So now I'm out of options I can think of...Help appreciated.
---
发表时间 Sun 07 Oct 18 @ 7:06 pm
Maybe Rune (dj-in-norway) can do it with "My Library"
A range indicate between 0khz to 22khz in the add-on ?
---
发表时间 Tue 27 Nov 18 @ 3:16 pm
---
发表时间 Tue 27 Nov 18 @ 3:22 pm
It's not necessary, I have not explained myself very well, I am not bilingual
---
发表时间 Tue 27 Nov 18 @ 4:45 pm
I bring new ideas and your answer that "This will never happen whit Virtual DJ"
An idea received can bring another, but surely not with a person like you that technology will advance the most not the way you treat customers!
I'm never ignorant of anyone, if you're not more patient with people and not a developer, you do not like your job, change it !
---
发表时间 Wed 28 Nov 18 @ 11:35 pm