Forum: General Discussion
话题: Compatible Songs Filter - Choose any song
So, there is a compatible songs filter: bpmdiff<=4 and keydiff=0

the bpmdiff and keydiff rules seem to refer to what's currently playing.

Say if I have two songs already lined up after the one playing. Is there a way to make the filter match with the last song instead of the one currently playing?

Instead of searching for a song to play next, I want to search for the song to play say 3rd or 4th and apply the compatible songs filter to the last song currently in the list (or a song of my choosing). That way I can have more songs lined up. Is there a way to do that?
---
发表时间 Wed 30 Sep 20 @ 9:41 am
the filter uses masterdeck as its reference, you can switch masterdeck from auto [meaning it follows the loudest] to selected by clicking the word "master"
---
发表时间 Wed 30 Sep 20 @ 10:10 am
Thanks. I'm curious what other side effects changing the master deck would have. I'll see if I can read up on it, but please let me know if there's anything obvious that you know of.
---
发表时间 Wed 30 Sep 20 @ 1:55 pm
This doesn't seem to work. If I have something playing on B and make A master, it still brings up songs to match B.
- Doug
---
发表时间 Wed 30 Sep 20 @ 4:20 pm
you need to reload the filter, select another folder and switch back.
---
发表时间 Wed 30 Sep 20 @ 5:50 pm
IIRC from an earlier thread, it takes a certain amount of time to react to the change. It won't be instant.
---
发表时间 Wed 30 Sep 20 @ 6:08 pm
Doesn't matter how long I wait. It always adjusts to the currently played song. When I stop and play the song in the other deck, it's instantaneous... Unless I am not understanding the instructions. Here's a video to demonstrate:

https://drive.google.com/file/d/1sVcKyFfXTOzgh9FIY2pvouHigD44GnwR/view?usp=sharing

Which also brings up another point, I would like to be able to choose any song and make the circled checkmarks show how well the song matches that song, not just the song that's currently playing.


---
发表时间 Wed 30 Sep 20 @ 9:20 pm
Can anyone explain exactly how to add the "compatible songs" filter. Word for word I cant figure this out
---
发表时间 Wed 13 Oct 21 @ 3:21 am
Quick filter/ Instant filters can be hard to use as its wizard can be broken in this situation
simple limited scripts only :

click quick filter and select "edit..."
add a quick filter - big icon if none exist or '+' button if some already exist
enter a name
add conditions (what you consider as being compatible)
Already played = 0
Bpm Difference < 2
Key Difference < 1
close wizard

you can enter directly advanced script on main page little line near name:

i.e.: not played similar key or 6 semitone allowed too and bpm adjustable (wizard dead)

Already Played = 0 and Bpm Difference < 4 and (Key Difference < 1 or (Key Difference > 5 and Key Difference < 7))

see article INSTANT FILTERS in
https://fr.virtualdj.com/manuals/virtualdj/interface/database/search.html


BETTER create a Filter folder instead this is simpler and more powerful:

browse Filter folder and click here to create a new filter folder
enter a name
add conditions (what you consider as being compatible and useful)

Play Count top 20
Already played = 0
Bpm Difference < 2
Key Difference < 1

i.e.: only 20 of the most played but not already played during the session (wizard can help)
top 20 Play Count and Already Played = 0 and Bpm Difference < 2 and Key Difference < 1

you can select "Advanced"
and type more advance scripts the wizard do not allow :

i.e.: top50 not played similar key or 6 semitone allowed too and bpm adjustable (wizard dead)

top 50 Play Count and Already Played = 0 and Bpm Difference < 4 and (Key Difference < 1 or (Key Difference > 5 and Key Difference < 7))

see https://www.virtualdj.com/wiki/Create%20Filter%20Folder.html
---
发表时间 Wed 13 Oct 21 @ 5:21 am
Dj Dyverse wrote :

Can anyone explain exactly how to add the "compatible songs" filter. Word for word I cant figure this out



Bpm Difference <= 4 and Key Difference = 0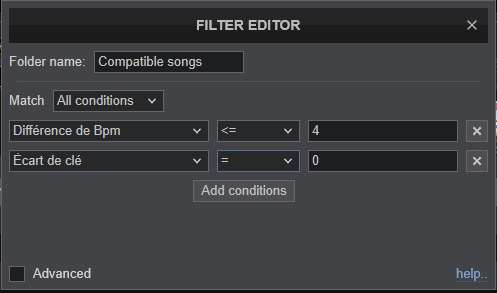 ---
发表时间 Wed 13 Oct 21 @ 8:50 am