Forum: General Discussion


About VirtualDJ and DJing in general

---
If you need extended support, contact our Support Team.
Forum Guidelines  (*) The moderators hold the rights to move or modify posts in order to keep the discussions clear or to facilitate the search.

there was a plugin that alowed toy to print your music in to a list i have not used VDJ for a bit but can not find this anywhere can someone help as i wish to get a new printed list of my music thanks
---
发表时间 Sun 15 Apr 18 @ 11:02 am

You don't need a plugin. Just use 'export browser view'.
---
发表时间 Sun 15 Apr 18 @ 11:10 am

thanks but where do i find this as i can not find it lol
---
发表时间 Mon 16 Apr 18 @ 6:31 am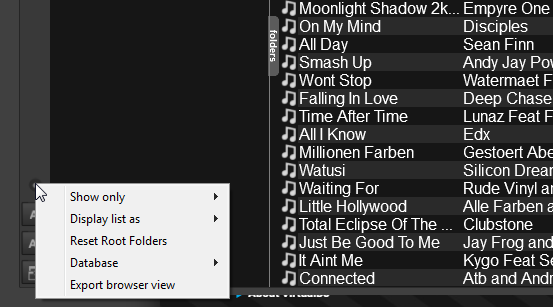 ---
发表时间 Mon 16 Apr 18 @ 7:13 am

Just click on the circle button on the left side of the browser
---
发表时间 Mon 16 Apr 18 @ 7:13 am