Hardware Manuals
Advanced Setup
RECORDING
The Roland DJ-707M offers a dedicated Record Input which allows you to record your mix including audio signal from VirtualDJ decks, analog inputs (connected to CH1 to CH4) and both Microphone inputs.
This Record input is part of the default audio configuration, so there is nothing to be done for recording your mix except to
press the REC button
in the MASTER mixer panel of VirtualDJ GUI.
MICROPHONES
The Roland DJ-707M offers 2 Microphone Inputs at the rear panel and both are routed directly into the Master/Booth Outputs. These inputs are not part of the USB Audio interface, therefore cannot be added to the Audio setup of VirtualDJ, neither can be controlled from it.
The signal of the Microphone Inputs is also included in the special Record Input, so its signal is properly recorded along with your mix from VirtualDJ,
TIMECODE (DVS)
The audio interface of the Roland DJ-707M offers 4 stereo inputs, that can be used as Timecode Inputs (DVS)*.
Connect your DVS unit (CD player with Timecode CD or turntable with Timecode Vinyl) to the appropriate INPUT at the rear panel.
IMPORTANT NOTE : The Inputs of CH1 and CH2 can be used with Timecode Vinyl, while the Inputs of CH3 and CH4 can be used for Timecode CD.


Make sure you have the INPUT SELECT at the top panel of this channel set to PC.


Click on the TIMECODE SIGNAL button in the Audio Setup of VirtualDJ to add the Timecode inputs.


Delete (with the x button next to each line) the timecode inputs that you don't use


Press APPLY


Start playing your Timecode devices and then visit the TIMECODE tab of VirtualDJ Settings to Calibrate your Timecode signal. The calibration will be saved and will not be necessary next time you connect the same Timecode sources.


From the SCRATCH panel of VirtualDJ GUI, use the ON buttons to select on which VirtualDJ deck your Timecode signal will apply to
In the following example we are using all 4 Inputs, with CH1 and CH2 mixer channels with Timecode Vinyls and CH3 and CH4 mixer channels with Timecode CDs
Note that the linein inputs are still part of the Audio Setup.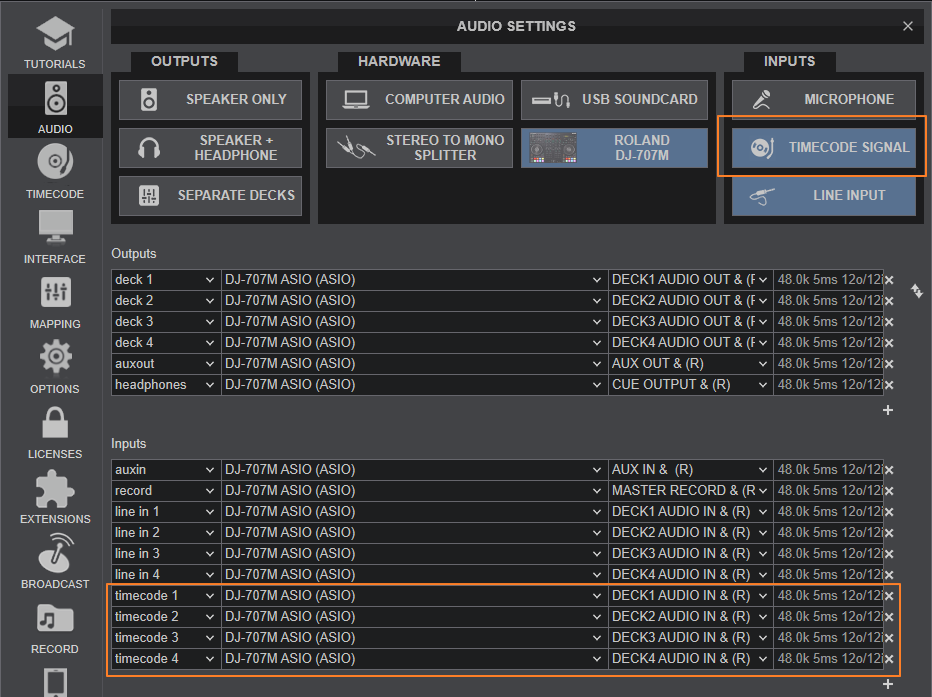 Roland DJ-707M - VirtualDJ Audio configuration with 2 Timecode Inputs
*Note : Line Inputs and Timecode (DVS) require a Pro Infinity or a Pro Subscription license
---
For further Technical features and specifications, visit
Roland DJ-707M

Product's Page
---

Hardware Integration Department
2019 - ATOMIX PRODUCTIONS
Reproduction of this manual in full or in part without written permission from Atomix Productions is prohibited.