Forum: VirtualDJ Skins
I'm editing live.xml.

there is this description below in broadcast.xml
<video source = "master" canstretch = "true">
<pos x = "+ 0" y = "+ 0" />
<size width = "1168" height = "656" />
</ video>

It seems that the video master output is projected there, but such a description is
not found in live.xml.
However, in live.xml, the video master output is projected on the entire screen.
Nevertheless, why can live.xml output video master?
---
发表时间 Thu 16 Jun 22 @ 9:19 am
Since <video /> is ommited completely, VirtualDJ draws the video on the full window and just places the skin elements on top.
If you define/include a <video /> element then (and only then) the video output will get resized / repositioned.

In other words in a video skin it's not necessary to include <video /> element unless you want ot move/resize the video output on the screen.
---
发表时间 Thu 16 Jun 22 @ 9:27 am
I edited live.xml and tried to make only two turntables. I would like to know how to make the background color transparent.

After that, I would like to project my MIDI controller from above with a camera and adjust the coordinates and size of the turntables so that the platter of the MIDI controller and the picture of the turntables overlap.



I also want to make these turntables translucent.
---
发表时间 Mon 04 Jul 22 @ 4:28 pm
For example, I want to realize such a video skin like this for live or broadcast.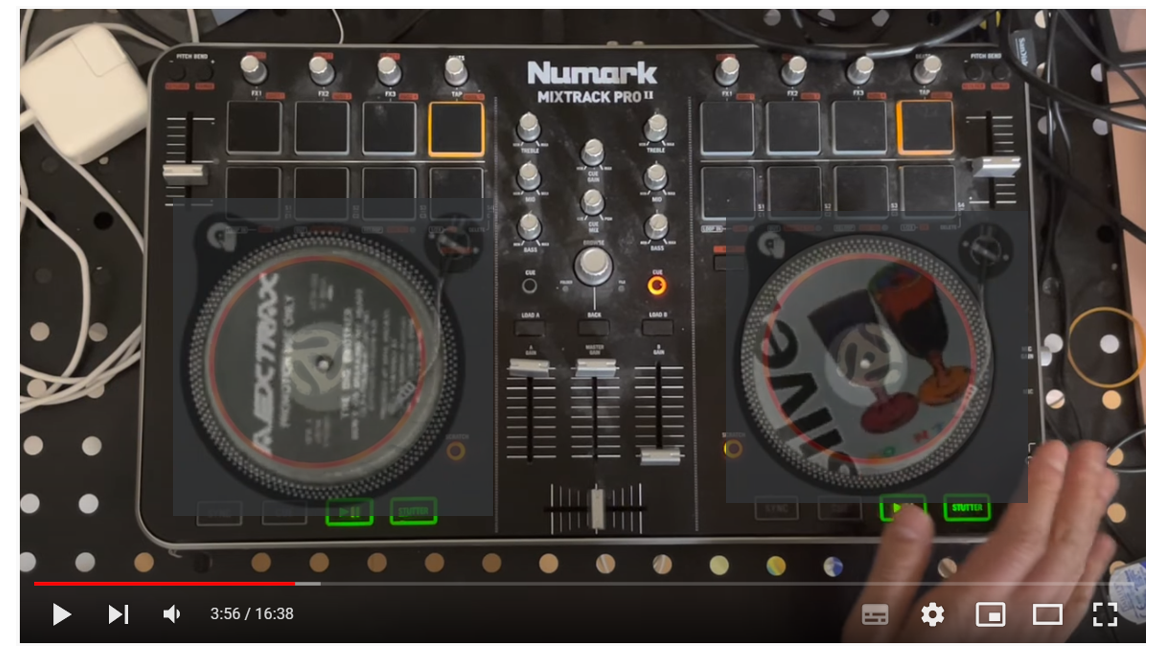 ---
发表时间 Wed 06 Jul 22 @ 3:07 pm
https://youtu.be/_1ywPAel9As

I manually edited the coordinate ​​and size attributes of the cover tag in the XML file by trial and error. Ideally, I would like to be able to make my own plug-in that makes full use of AR with marker stickers put on the MIDI controller.

Please comment if it is technically possible.
---
发表时间 Tue 12 Jul 22 @ 3:33 pm
Maybe the Hough transform is easier to detect both platters?
---
发表时间 Wed 13 Jul 22 @ 12:58 pm