Forum: Wishes and new features
Topic: Remix suggestions in sideview for local files
Hi there,

ive build a custom button that will search all files with the same title and artist to find remix versions of the browsed songs.

But it would be nice to see the remixe automatically in the sidelist.

At the moment only "online" remixes are visible (https://www.virtualdj.com/totd/24/Remix_Suggestions.html)

But during the gig i dont have internet.
---
Posted Fri 11 Sep 20 @ 9:04 pm
Wow, today ive detected (by coincidence) that you can see remixes of local files now. (b6106)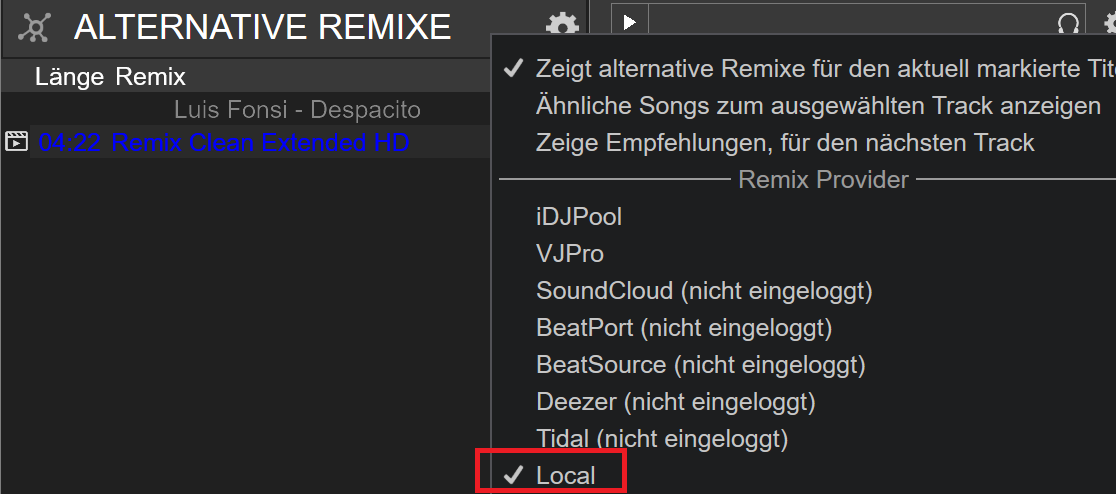 I knot know when you have added this, the change log does not mention it. But, thank you so much for this function. I love it.


---
Posted Thu 22 Oct 20 @ 9:48 pm
It works great. Ive found out that i have to put the same artist into the artist tag ( and a "ft") to see them as remix versions.

As example:
Umbrella from Rhianna
Umbrella from Rhianna ft Elephant Man
Umbrella from Rhianna ft Jay-Z

How could i mark them if the artist is different?
As example:
Self Control from Laura Brannigan
Self Control from Raf
Self Control from The Hoodys

I know its not a remix anymore, its a cover. Is there a way anyway?

---
Posted Fri 06 Nov 20 @ 10:45 pm