Forum: Addons
话题: MixtrackPro III - 8Skin
---
发表时间 Sun 24 Apr 16 @ 8:41 pm
Link HD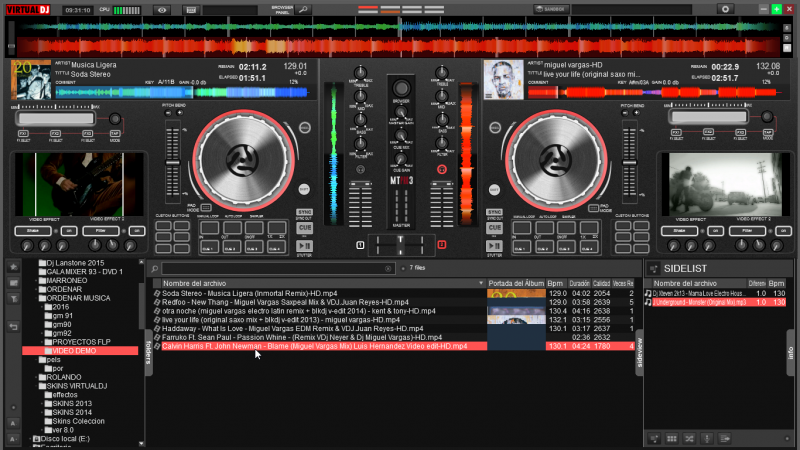 ---
发表时间 Mon 25 Apr 16 @ 2:51 pm
Hi, I have the MTP3 controller and love the design of the skin you created for it, but it has some serious flaws such as the effects triggers and jogwheel scratch toggle buttons, among other things. I'm having to use a Pioneer skin for now but would love to use the MTP3 skin again. Is there anyway you can fix the issues and update it?
---
发表时间 Fri 05 Aug 16 @ 9:27 pm
i'm getting a network error when i try downloading these.

any thoughts?

.dw
---
发表时间 Mon 31 Oct 16 @ 9:09 am
TheRealWoofNet wrote :

i'm getting a network error when i try downloading these.
any thoughts?
.dw



I just downloaded both the mac and win versions without error
Maybe it was a short glitch?
(another options is that if you've ever had a cracked version of VDJ on your laptop, it may have ruined your network settings for VDJ servers, to prevent the software from "calling home")
---
发表时间 Mon 31 Oct 16 @ 11:07 am
Hi Brian,
nice skin ! That´s what I´m waiting for.
I fixed two little bugs/features ;-) in this.
I changed the functions of Cue Mix and Cue Gain button.
And also changed the light on/off while prelistening a song.
Do you want to have the updated version to release it ?
best regards
Gregor

---
发表时间 Thu 08 Dec 16 @ 6:14 pm
Hi
I don't use the screens left and right because I only play mp3 files and no Videos. Is it possible to implement a still picture in the screens ?
---
发表时间 Fri 10 Mar 17 @ 7:28 pm
have some functionality problem. CUE doesn't work properly. Is there any working skin here for mixtrack3?
---
发表时间 Thu 20 Jul 17 @ 1:42 pm
All VDJ skins will work with the Mixtrack III.

Are you sure it's the skin that's causing the issue? Have you tried with the default VDJ 8 skin?

Also please explain "doesn't work properly". What are you expecting it to do, and what does it actually do?
---
发表时间 Thu 20 Jul 17 @ 2:45 pm
This skin is very nice... I have no complaints. I use the Numark Mixtrack 3 controller.
---
发表时间 Fri 06 Jul 18 @ 10:20 am
Nice job, love the skin but just like the others, I have some control issues.
First, the top FX 1, 2, and 3 buttons for the right side don`t work with the deck. If I push FX 1 on the deck, it activates the Video Effect. Also the Cue Gain and Cue Mix are switched. They are labeled correctly but when I turn the Cue Gain on the deck, on the screen the Cue Mix is what`s turning. Any chance to fix those issues?

Thanks
---
发表时间 Fri 21 Dec 18 @ 5:13 am
I'm using this skin with the pro 3,am getting the same as some others have mentioned,the cue gain and cue mix are switched,any updates on this or details about how to change it?
---
发表时间 Mon 23 Dec 19 @ 1:08 pm
You don't have to use a skin that looks like your controller...

You can use any skin. There's a huge selection.
---
发表时间 Mon 23 Dec 19 @ 5:33 pm
Really, Really Nice DUDE!! THANK YOU!!
stay safe and all the best.

---
发表时间 Fri 17 Apr 20 @ 1:36 am