Forum: Addons
话题: Mix Lab VDJ 8 - Page: 1
---
发表时间 Fri 19 Sep 14 @ 3:59 pm
Thank you for this skin.

On Mac the waveform doesn't appear
---
发表时间 Sat 20 Sep 14 @ 11:22 am
Which waveform? The songpos waves on each deck, or the large overhead rhythmzone waves?

When you say "doesn't appear", what do you see? Nothing at all (blank) or a block of colour?

Do you get this issue with other skins?

I do not have a Mac to test on BTW.
---
发表时间 Sat 20 Sep 14 @ 11:33 am
---
发表时间 Sun 21 Sep 14 @ 1:26 pm
Just maximize it. :-)

The graphics were designed for the original res by DJ Format. I don't have access to any higher res versions.




---
发表时间 Sun 21 Sep 14 @ 3:02 pm
yeah the top waveform where it scrolls through doesn't show. it's just solid blue and solid red. the waveform on the deck itself loads fine. on mac.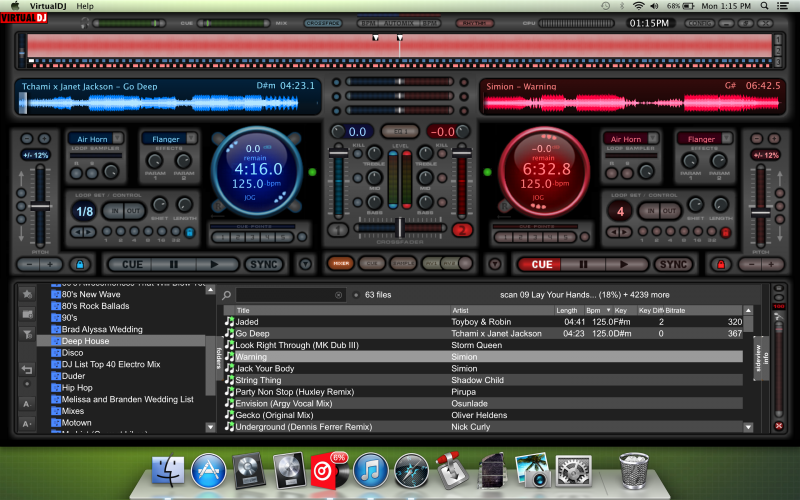 ---
发表时间 Mon 06 Oct 14 @ 3:15 pm
Unfortunately this is a Mac only issue. Some aspects of VDJ 8 are broken in the Mac version.

Atomix know this, and yet the issues remain.

This particular problem is caused by the Mac version requiring the <rhythmzone> code rather than working with the older <rhythm> code as the PC version does.

There's a transparency issue as well which affects some skins.

I don't use Macs so I can only check that things work on PC.
---
发表时间 Mon 06 Oct 14 @ 4:45 pm
so no idea how to fix it? if there's anything you want me to test on the mac for you let me know.
---
发表时间 Tue 07 Oct 14 @ 12:13 am
I know how to fix it. As I said, it requires the <rhythm> code to be changed to <rhythmzone>

[later] I have re-coded that section, so now hopefully it will work on Mac.

It's uploaded but you'll have to wait for it to be made available. It's v1.2
---
发表时间 Tue 07 Oct 14 @ 4:52 am
Update:

v 1.3 adds clickable transitions to the video screens
---
发表时间 Sun 12 Oct 14 @ 5:46 am
Oops!

There was an error with the code in v1.3 where the video transition button added to the video screens was "showing through" the deck panels.

Now corrected in v1.4
---
发表时间 Mon 13 Oct 14 @ 11:50 am
v1.5 fixes CPU meter not working.
---
发表时间 Tue 14 Oct 14 @ 5:03 am
I'm not able to download it :(
---
发表时间 Mon 10 Nov 14 @ 5:05 am
Sorry, but this skin is not available to Home FREE users.

The majority of skins and other add-ons are only available to registered licensed users and are one of the many benefits of purchasing a license for the software.

Some VirtualDJ v8 add-ons such as selected skins and samples are available to home users though. To see what's available, please go to our add-ons page for VirtualDJ v8. Those without a green LE/PLUS/PRO tag are free to download. If you would like to download all add-ons without any limitations, you will need to purchase a license.
---
发表时间 Mon 10 Nov 14 @ 5:21 am
Please VDJ Home version, excellent skin
---
发表时间 Sat 06 Dec 14 @ 4:31 pm
how do you record? I cant find a rec button

---
发表时间 Mon 27 Apr 15 @ 12:04 pm
Please read your VDJ 8 User's Guide - page 87.
---
发表时间 Mon 27 Apr 15 @ 12:31 pm
Downloaded this on Mac for the crossfader for low mids and highs. However, bassfader eq does not work at all. Any ideas about why this would happen?
---
发表时间 Mon 11 May 15 @ 12:53 am
Sorry but it works fine on my PC and I don't have a Mac.

The skin script/code is cross platform, so if it works on PC it should therefore work on Mac - unless there is an issue with VDJ on the Mac.
---
发表时间 Mon 11 May 15 @ 4:16 pm
---
发表时间 Wed 20 May 15 @ 3:59 pm