Q. My computer keeps crashing or freezing
---

While VirtualDJ 7 has been developed to be as reliable and flawless as possible, no software application can be 100% free from errors.

For the vast majority of users, VirtualDJ is very stable software and a crash is a very rare occurrence (Many users may never experience one.)

To help safe-guard your live performances, VirtualDJ includes a "Crash Guard" feature which will attempt to intercept a crash in the rare event that one occurs.

If a crash happens, you will see a pop-up message similar to the following: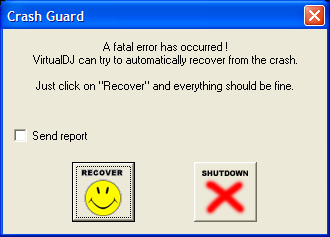 First, don't panic! In most cases, the music will keep playing until the end of the current song, so this should give you ample time to switch to your backup solution (CD player, iPod, another laptop, etc.)

If you click RECOVER then this will restart the software, automatically reloading the same track and starting it playing again at the same position, pitch and volume. This means that in most cases there will only be a few seconds of 'dead air' while the software reloads.

If you click SHUTDOWN then the software will close altogether, allowing you to start it again from scratch.


If a crash occurs, there will be a file in your VirtualDJ home folder named crashguard report.txt that will contain important debugging information that can be used by support to help determine the cause of the crash, so that it can be fixed in a future version update to VirtualDJ. On PC, your VirtualDJ home folder is located in My Documents/VirtualDJ, and on Mac it is located in either /users/YOURNAME/Documents/VirtualDJ or /users/YOURNAME/Library/VirtualDJ for new installations of VirtualDJ v7.0.3 and above.

Please always ensure that you have the latest version of VirtualDJ installed. If you are running an older version of the software. the cause of the crash may already be fixed. For registered licensed users who have purchased the software, the latest version can always be downloaded from the Download Center. The latest Home FREE can be downloaded from the Home FREE download page.


IMPORTANT: You should always have a backup solution that you can fall back on in an emergency. This applies when using any DJ software or even traditional CD decks. Even CDJ's and hardware mixers can fail, or be damaged by a party-goer spilling their drink over it, etc.



---
FAQ
Knowledge Database
Wiki HOME