Forum: General Discussion
话题: Updating database information when tags of files were changed ...
Hi experts,

I still use extern tools like MP3TAG to maintain my information in the files after VDJ once destroyed my tags some time ago.

I imported the files into VDJs database ... and then I changed some wrong information "ourside" VDJ with MP3TAG. How can I now also update the VDJ database?
When I use the "read BPM and TAG" function on the files it seems that VDJ read the new values, but I have to start the TAG editor of VDJ, where the new values are shown below the tag fields and have to push a arrow button to change to the new values ... can this be done easier ???

kind regards
Alhifi
---
发表时间 Fri 14 Jan 22 @ 10:49 pm
Select the files on VirtualDJ browser, right click on one of them, Batch->Reload Tags
---
发表时间 Fri 14 Jan 22 @ 11:23 pm
If only it were that simple ... doesn't work as I wrote in the first post!

Doing a test with a mp4 video file:

Before, take a look at tag YEAR in the tag editor: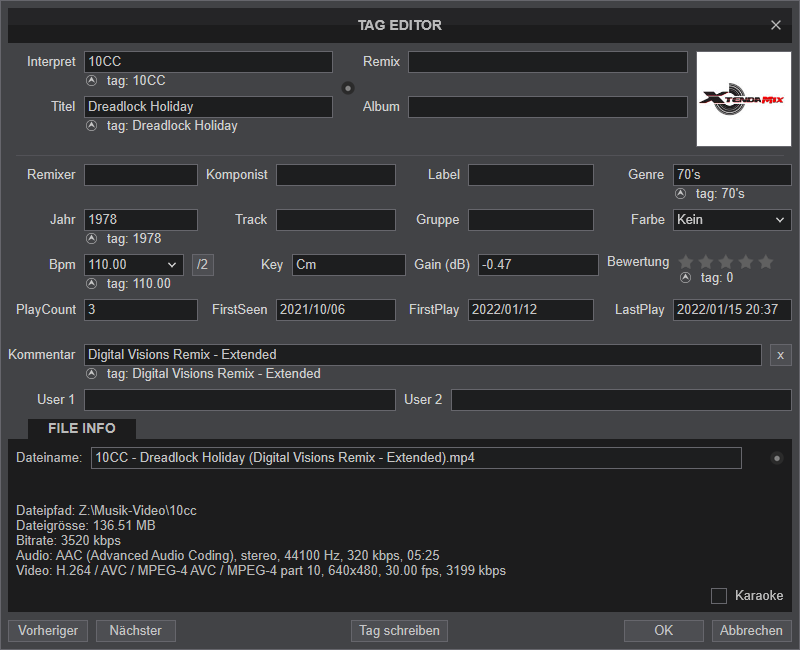 Now I changed that value external with MP3TAG to "1988", after that I marked the song in the VDJ browser and did the "BPM and TAGs ermitteln" (sorry, german) from the context menu: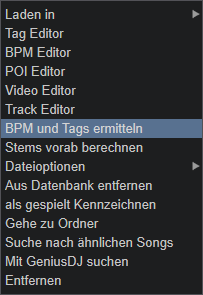 Nothing happens in the browser view, so I open the tag editor again: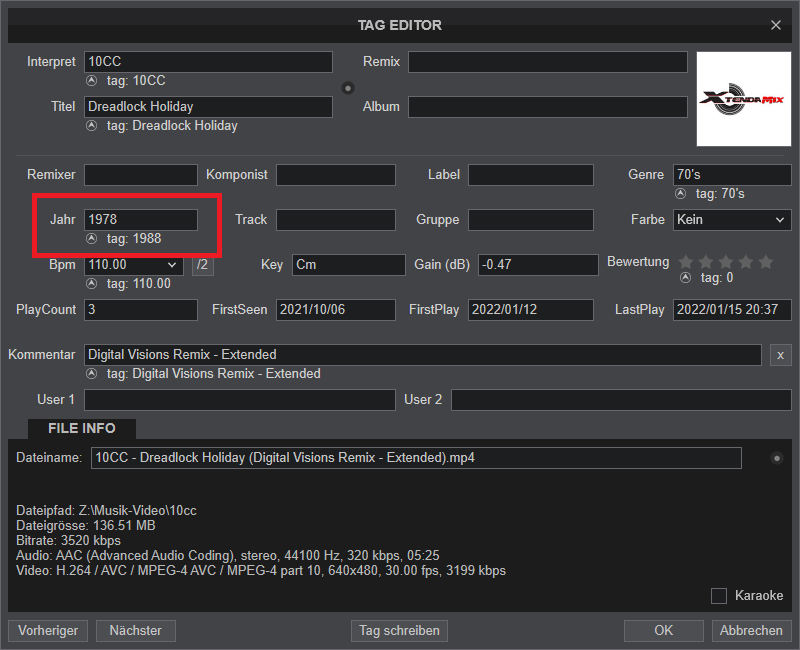 As you can see VDJ has seen the change ("1988"), shows this below the tag information which it is the value from the database ("1978"), but there is no update until I push the arrow button ... and that's really illogical.

Now how I can configure VDJ to read and import new or changed tag values???

There's still also a problem with the "remix" tag within VDJ which is the tag "subtitle" in the every other tag software. VDJ reads this value from mp3 audio files, but not from mp4 video files ... confusing.

kind regards
AlHifi
---
发表时间 Sun 16 Jan 22 @ 10:54 pm
As I said, you need to select AT LEAST TWO TRACKS and then use the BATCH menu.
Not the "Analyze for BPM"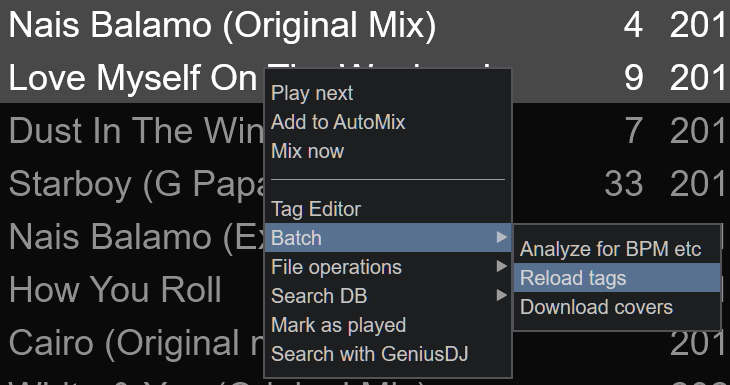 ---
发表时间 Sun 16 Jan 22 @ 11:46 pm
Thanks ... that is it!

Only problem I see is that I still have to remember which files are changed, when I did not want to run this batch over the whole filebase ... :-D

---
发表时间 Mon 17 Jan 22 @ 9:06 am
Enter * in the search to select all files then sort by file date. You can then get the newest modified ones all together at the top then reload tags for those only.

That's what I do.
---
发表时间 Mon 17 Jan 22 @ 10:16 am