Forum: General Discussion


About VirtualDJ and DJing in general

---
If you need extended support, contact our Support Team.
Forum Guidelines  (*) The moderators hold the rights to move or modify posts in order to keep the discussions clear or to facilitate the search.
话题: Play a Song at Certain Time of Night

Hi Guys, I am hosting a family party for NYE this year instead of out earning, some points of the evening I will be socialising, and just be playing off auto-mix. Is there a way to play a song or cut to a countdown just before midnight regardless of what is playing? I know I could sit and work out playlist and timing etc but don't want to be limited to having a fixed playlist before the event. Just so I can be out the front with friends and family and not clock watching.
Some sort of script that I can setup to mix to (File name) @ 11:55 PM for example.
Many thanks
---
发表时间 Sat 02 Dec 17 @ 9:36 am

Maybe query the time with a rsi, I'm not sure of the script, I'll have a look in the next day or two
---
发表时间 Sat 02 Dec 17 @ 2:36 pm

Anybody able to help me with this? it was a real rush last year which meant I was slightly out of time for midnight countdown!
Doing the same this year so would love to be able to get it spot on.
Any help would be greatly appreciated.
---
发表时间 Thu 11 Oct 18 @ 8:16 pm

hi,
if you are going to use the Automix, select the column to view option, will play at,
then you can insert your song

good luck
GK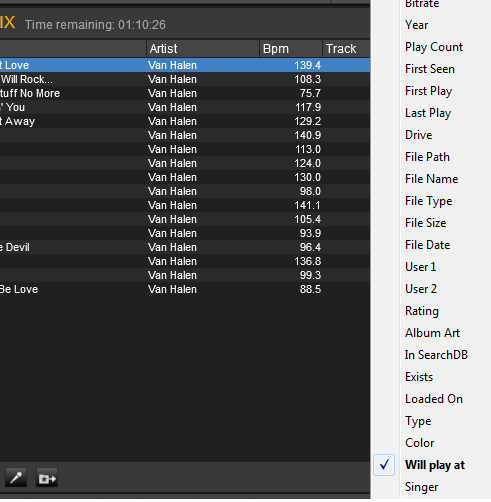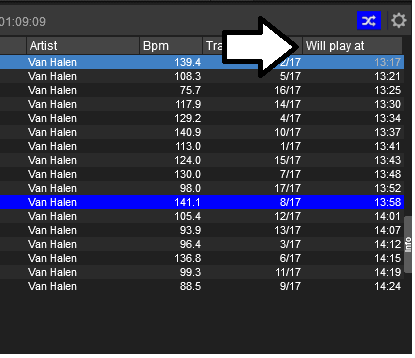 ---
发表时间 Thu 11 Oct 18 @ 8:24 pm

Oh wow must have forgotten about this one,
there is a x86 (vdj 32 bit) plugin called countdown or something like that, made by SBDJ, that's probably your best solution. I have actually used vdj as an alarm clock using rsi script querying "are you playing now ? yes do nothing (kill the rsi script) : no, is the clock bigger than my desired wakeup time ? yes, load this track (usually gabba, sometimes classical) to this deck and play : no it's earlier than wakeup, check again in 30 seconds.

You could probably scheduled an entire set this way (with the rsi running faster, at the 33ms limit) but, meh, a lot of work for really boils down to a prerecorded set, a long work for a short picnic.

countdown is sort of the same deal too, but much easier.
---
发表时间 Thu 11 Oct 18 @ 9:31 pm

Thanks for your help Guys, I have downloaded the countdown plugin and will have a play with that see what I can do :)

---
发表时间 Fri 26 Oct 18 @ 4:49 pm